Water Levels can vary greatly – the Morgan Falls site shows the current level (Gauge Height) at Morgan Falls, which is a good, but not perfect indication of the levels downstream of the ARC docks. The amount of the sand bar showing downstream of the island is a good indication of the downstream sandbar situation.
Water Speed – Roswell
A discharge of 1,000 cuft/sec means calm waters;
A discharge of 4,000 cuft/sec means fast but reasonably manageable for experienced rowers, rowing upstream will be a challenge;
A discharge of 6,000 cuft/sec means trouble – the river is too fast.


Water Speed: This Roswell site has good data on water speed and temperature.
Water Level – Morgan Falls Dam
866 = Full River Good Rowing Conditions
865 = Rowable, but 4s & 8s should go wide at the sandbars
864 = Rowable, but Exercise Caution. May be too shallow for 8s, 4s & quads. Sandbars Rising
863 = Probably Not Rowable – Shallow Water, High Sandbars
862 = Definitely Not Rowable
The site can also provide you wind speed, direction and air temperature on the river. Winds above 15 mph from the NNW can produce heavy chop / whitecaps.
Wind Speed – Morgan Falls Dam

​
Water Speed – Norcross (3 hour forecast)
The Norcross site discharge rate will affect the rowing venue about 3 hours after leaving Norcross. This site provides an indication of rainfall affect in addition to the Buford Dam releases.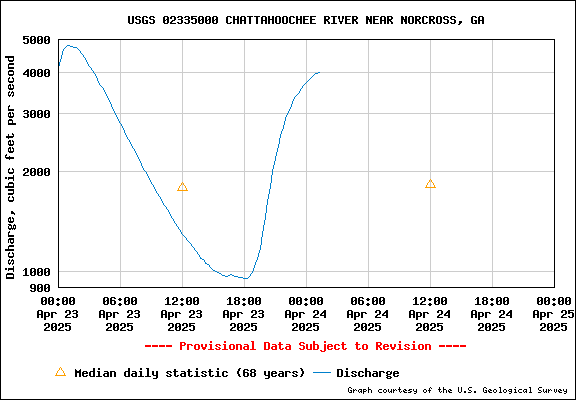 Water Speed – Buford Dam (12 hour forecast)
The Buford Dam discharge rate usually varies between 500 cuft/sec and 5,000 to 10,000. It will affect the rowing venue about 12 hours after it leaves Buford Dam.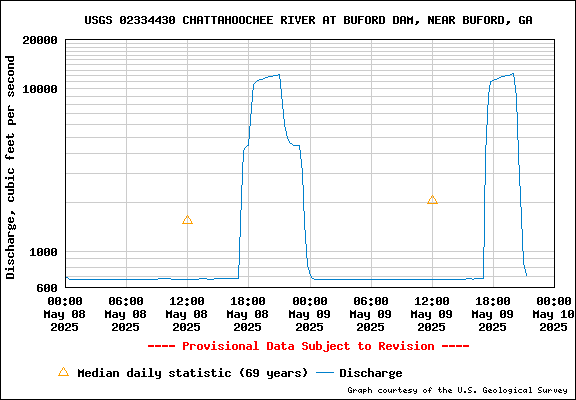 Water Quality
Generally the E. coli count is higher for heavy flows, especially after heavy rains (an E.coli count above 235 is regarded as potentially unsafe).
The Chattahoochee Riverkeepers track E. coli and other data for several river locations listed alphabetically at http://www.chattahoochee.org/nww/. The ARC team's 3 testing locations are listed at this page as Big Creek at Riverside Park, Chattahoochee River at Roswell Road and Willeo Creek at Willeo Road.
The NPS data and estimates for Medlock Bridge and Paces Ferry are here.